---
Angela's Bio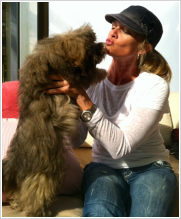 Angela Bubley has been studying the art of dog behavior and obedience since adopting her first dog in 1985, and teaching professionally since 1996. By regularly attending canine behavior seminars, and volunteering her time to local canine rescue organizations, she is able to better serve her clients, with new and exciting techniques.
B. Paws-itive Pet Dog Training, offers private dog training instruction, at an affordable price, and is geared towards individuals who wish to have a dog as an intelligent, well mannered companion in their home. We train you to train your dog, and use real life situations, such as, down stays while eating dinner and unloading the dishwasher. Sit, down, stay, come, and heel during trips to your childs ballgames, greeting guests at the front door, or waiting patiently at your vets office are when your dog's obedience lessons really become a necessity.
Bonding with your dog and training him as soon as he comes home, is the best route for you and your family. No two dogs are alike, so training must suit his temperament. A shy dog cannot be instructed the way one would instruct an aggressive dog.
All of Angela's techniques use loads of love, praise, (treats), affection, and tons of fun, as the basis for training.
Hillsborough County Approved Dog Obedience Insructor
Member: Canine Good Citizen Evaluator for AKC
Angela and her dogs regularly participate with local youth organizations, and schools in educating children on canine care, safety, and training.
Angela Bubley is a AKC Approved CGC Evaluator, and will test your dog(s) for the AKC STAR PUPPY TEST AND CANINE GOOD CITIZEN TEST.
One final note, customer satisfaction is B. Paws-itive's top priority, and we will do everything we can to insure that you and your family are happy.
Angela's Mission
I shall remember that to my community and all with whom I come in contact in dog obedience work, I typify dog obedience. It is my duty to keep the ideal high.
I will always strive to better the understanding of dog obedience and canine behavior, proving it a work and profession worthy of respect and admiration.
Always will I advocate training by such methods that will keep the best interest of the dog and the handler in mind.
I will work towards improved methods of instruction for all breeds of dogs. At all times in my association with people and my work with dogs will I conduct myself in a professional manner.